I've seen many other blogs posting about books they are excited for on Wednesdays, so I thought I'd add two more titles that I'm really excited for.
The first comes out in November, but I've already pre-ordered a UK paperback copy through Book Depository (I try to keep series in the same format and I own *signed* paperbacks of Cinder, Scarlet, and Cress).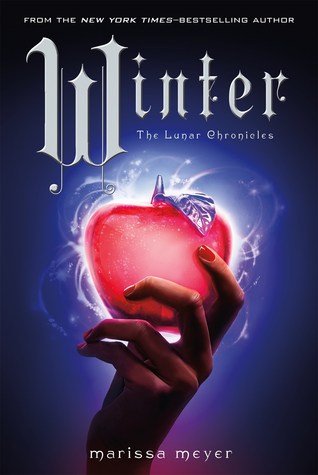 Book 4 in the Lunar Chronicles by Marissa Meyer: Winter!!  One of the most anticipated books of the year, and I'm one of those anticipating, or course 🙂
About the book: Princess Winter is admired for her grace, kindness and beauty, despite the scars on her face. She's said to be even more breath-taking than her stepmother, Queen Levana…When Winter develops feelings for the handsome palace guard, Jacin, she fears the evil Queen will crush their romance before it has a chance to begin. But there are stirrings against the Queen across the land. Together with the cyborg mechanic, Cinder, and her allies, Winter might even find the power to launch a revolution and win a war that's been raging for far too long. Can Cinder, Scarlet, Cress, and Winter claim their happily ever afters by defeating Levana once and for all?
For something a little more recent with ties to my TBR pile, I'm excited for the sequel to The Diabolical Miss Hyde, which is called The Devious Dr. Jekyll by Viola Carr.
While I have yet to read the first one, this series has me really excited to see a female protagonist with a demure, lady-like side and a sexy, aggressive side.  I'm looking forward to awesomeness and hope that I am rewarded.
About The Diabolical Miss Hyde:
In an electrified Victorian London, Dr. Eliza Jekyll is a crime scene investigator, hunting killers with newfangled technological gadgets. She will need every advantage available to catch a terrifying new psychopath splattering London with blood. Hidden in the grimy shadows, the fiendish murderer preys on beautiful women, drugging them before slicing off their limbs. Finding the "Slicer" can make Eliza's career, or unmask her darkest secret. Like her father, she has a hidden second self that emerges when she drinks his forbidden magical elixir. Just a few sips, and a seductive and impulsive Lizzie Hyde is unleashed.
The members of the Royal Society do not trust Eliza, and they send their enforcer, the mercurial Captain Lafayette, to prove she's a dangerous sorceress. The careful doctor knows that one wrong step can make her prey to the clever Lafayette, a man who harbors an evil curse of his own. No matter how much she craves the elixir, she must resist.
But as the Slicer case draws her into London's luminous magical underworld, Eliza will need the potion's power to help her–even if it might attract the attentions of Lafayette.
Even if it means setting the wild Lizzie free. . .
What are you looking forward to reading in the coming months?