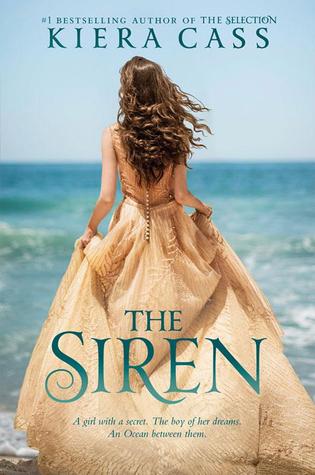 The Siren by Kiera Cass is technically a reprint; however, Kiera worked with her editor to make several changes from her original self-published manuscript, which is why I'm counting it as a new release in 2016 for my reading challenge.
Expected release: January 26, 2016
As a stand-alone, unrelated to her best-selling Selection series, The Siren is a paranormal romance that examines a variety of love types through the story of a slightly magical girl and an ordinary boy, who fall in love and have to overcome the call of the siren to be together.
Here is a different approach to the siren mythology as there are no mermaids, just young women in service to the Ocean.  They've been given a second chance at life, but the price is crashing ships by using their voices and song to feed the ocean for 100 years.   The main character, Kahlen, is the Ocean's favorite and has already served Her for 80 years.  Kahlen prefers to keep to herself and hates that they must sing people to their deaths, which frustrates two of her sisters, who enjoy clubbing and interacting with humans.
The real conflict occurs when Kahlen spends time with a boy she meets in the university library named Akinli, who doesn't mind that she can't speak and looks past her unworldly attractive exterior.  And while it's not quite insta-love, there also wasn't much explanation of why he was drawn to her.  I don't want to spoil anything, so I'll just say that when they spend time together, they are an adorable couple, but the ending was a little bit overdone in relation to their relationship.
But that was not the only kind of love shown throughout the narrative.  Kahlen's familial love between her sisters was refreshing as they tried to work things out together even though they come from very different backgrounds and time periods.  The other type of love portrayed is harder to describe as it's the love the Ocean has for her sirens.  As an immortal being, the Ocean is not in the habit of thinking in the same vein as humans, so Her love sometimes invokes fear or hate instead of coming across as a mother's love.
I was disappointed that we didn't learn more about the Ocean and Her role in the world.  That bit of world building would have made some of the choices more viable or believable.  I also didn't feel like these girls were from another time period.  They all read like slightly more mature teenagers instead of women who had lived through many decades but who only looked like young adults.
Overall, I felt like this was a lovely afternoon read for someone who just wants a love story with a hint of magic.  I would recommend this book for fans of Kiera Cass or paranormal romance.  Anyone who wants a deep story should look elsewhere; here there is only adorable, relaxing fluff. 🙂
Summary from Amazon:
From Kiera Cass, #1 New York Times bestselling author of the Selection series, comes a captivating stand-alone fantasy romance.
Kahlen is a Siren, bound to serve the Ocean by luring humans to watery graves with her voice, which is deadly to any human who hears it. Akinli is human—a kind, handsome boy who's everything Kahlen ever dreamed of. Falling in love puts them both in danger . . . but Kahlen can't bear to stay away. Will she risk everything to follow her heart?
The Siren was previously self-published; this brand-new edition has been completely rewritten and redesigned.
Review based on advanced uncorrected proof.