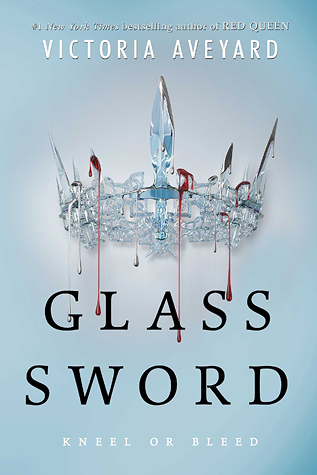 Anticipated release date: February 9, 2016
You can pre-order a signed first edition at Barnes & Noble
I was lucky enough to grab an advanced copy of Glass Sword from work, and I was glad to read it for review here.  While I loved Red Queen, the sequel was harder to swallow.  Victoria has a very compelling writing style, and she's done her homework on portraying emotions, especially in adverse situations.  The subject matter of war and casualties were really hard to read and reminded me why I don't like to read stories that focus on wars.  I was also put off by the repetition of the protagonist's inability to trust anyone and the need to keep reminding herself that the prince was just a fleeting distraction.  But, I just couldn't stop reading!
I don't want to spoil anything, so I'm not going to talk about the plot except to say that it basically starts where Red Queen ended.  You will definitely want to read this book.  It has all the great stuff from the first book while expanding on characters and abilities.  And even though the subject was harder for me to read, the writing was so fluid that I had to keep going.  I look forward to reading more from Victoria Aveyard 🙂
From the publisher:
The electrifying next installment in the Red Queen series escalates the struggle between the growing rebel army and the blood-segregated world they've always known—and pits Mare against the darkness that has grown in her soul.
Mare Barrow's blood is red—the color of common folk—but her Silver ability, the power to control lightning, has turned her into a weapon that the royal court tries to control. The crown calls her an impossibility, a fake, but as she makes her escape from Maven, the prince—the friend—who betrayed her, Mare uncovers something startling: she is not the only one of her kind.
Pursued by Maven, now a vindictive king, Mare sets out to find and recruit other Red-and-Silver fighters to join in the struggle against her oppressors. But Mare finds herself on a deadly path, at risk of becoming exactly the kind of monster she is trying to defeat.Will she shatter under the weight of the lives that are the cost of rebellion? Or have treachery and betrayal hardened her forever?