As February comes to a close, I find that there are many new releases that I didn't have a chance to finish.  But, I hope to read them this year.  Unfortunately, I fell behind on my 2016 pub. date challenge, but not because I didn't have time to read.  No, it's because I found myself devouring a few books from my TBR list that wouldn't let me go (i.e. A Court of Thorns and Roses).  So, here's what I'm hoping to read soon!
I haven't read very many Peter Pan retellings or stories set in Neverland, so this title really intrigues me.  Especially since it seems to have a darker take on the whole place.
Summary: For as long as she can remember, Gwendolyn Allister has never had a place to call home—all because her mother believes that monsters are hunting them. Now these delusions have brought them to London, far from the life Gwen had finally started to build for herself. The only saving grace is her best friend, Olivia, who's coming with them for the summer.
But when Gwen and Olivia are kidnapped by shadowy creatures and taken to a world of flesh-eating sea hags and dangerous Fey, Gwen realizes her mom might have been sane all along.
The world Gwen finds herself in is called Neverland, yet it's nothing like the stories. Here, good and evil lose their meaning and memories slip like water through her fingers. As Gwen struggles to remember where she came from and find a way home, she must choose between trusting the charming fairy-tale hero who says all the right things and the roguish young pirate who promises to keep her safe.
With time running out and her enemies closing in, Gwen is forced to face the truths she's been hiding from all along. But will she be able to save Neverland without losing herself?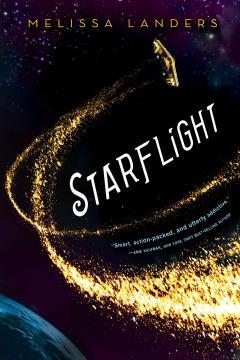 I'm probably going to read and review this novel in conjunction with a Firefly post or potentially when Syfy's two Firefly-esque shows (Dark Matter and Killjoys) start back up this summer.  I'm usually not that excited about science fiction, but I could get behind this book.
Summary: Life in the outer realm is a lawless, dirty, hard existence, and Solara Brooks is hungry for it. Just out of the orphanage, she needs a fresh start in a place where nobody cares about the engine grease beneath her fingernails or the felony tattoos across her knuckles. She's so desperate to reach the realm that she's willing to indenture herself to Doran Spaulding, the rich and popular quarterback who made her life miserable all through high school, in exchange for passage aboard the spaceliner Zenith.
When a twist of fate lands them instead on the Banshee, a vessel of dubious repute, Doran learns he's been framed on Earth for conspiracy. As he pursues a set of mysterious coordinates rumored to hold the key to clearing his name, he and Solara must get past their enmity to work together and evade those out for their arrest. Life on the Banshee may be tumultuous, but as Solara and Doran are forced to question everything they once believed about their world—and each other—the ship becomes home, and the eccentric crew family. But what Solara and Doran discover on the mysterious Planet X has the power to not only alter their lives, but the existence of everyone in the universe.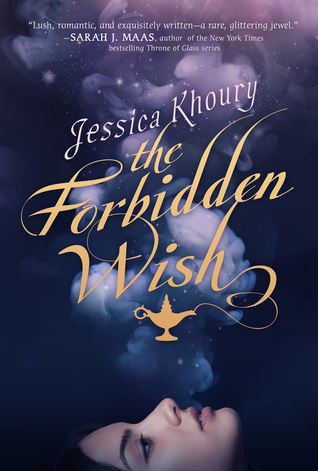 I loved the Arabian nights and Aladdin's story when I was younger, and this story tells the tale through the eyes of the jinn from the lamp.  Hopefully, this book will deliver a new perspective to the whole thing.
Summary: When Aladdin discovers Zahra's jinni lamp, Zahra is thrust back into a world she hasn't seen in hundreds of years — a world where magic is forbidden and Zahra's very existence is illegal. She must disguise herself to stay alive, using ancient shape-shifting magic, until her new master has selected his three wishes.
But when the King of the Jinn offers Zahra a chance to be free of her lamp forever, she seizes the opportunity—only to discover she is falling in love with Aladdin. When saving herself means betraying him, Zahra must decide once and for all: is winning her freedom worth losing her heart?
As time unravels and her enemies close in, Zahra finds herself suspended between danger and desire in this dazzling retelling of Aladdin from acclaimed author Jessica Khoury.
I'm not sure how I feel about this book except that the summary sounds interesting.  It could go either way for me, so I probably won't read it in the near future, but definitely do want to give it a try.
Summary: Space-farmer Rae Darling is kidnapped and trained to become a warrior against her own people in this adventurous middle grade space western.
Rae Darling and her family are colonists on a moon so obscure it doesn't merit a name. Life is hard, water is scarce, and the farm work she does is grueling. But Rae and her sister Temple are faced with an added complication—being girls is a serious liability in their strict society. Even worse, the Cheese—the colonists' name for the native people on the moon—sometimes kidnap girls from the human colony. And when Rae's impetuous actions disrupt the fragile peace, the Cheese come for her and Temple.
Though Rae and Temple are captives in the Cheese society, they are shocked to discover a community full of kindness and acceptance. Where the human colonists subjugated women, the Cheese train the girls to become fierce warriors. Over time, Temple forgets her past and becomes one of the Cheese, but Rae continues to wonder where her loyalties truly lie. When her training is up, will she really be able to raid her former colony? Can she kidnap other girls, even if she might be recruiting them to a better life?
When a Cheese raid goes wrong and the humans retaliate, Rae's loyalty is put to the ultimate test. Can Rae find a way to restore peace—and preserve both sides of herself?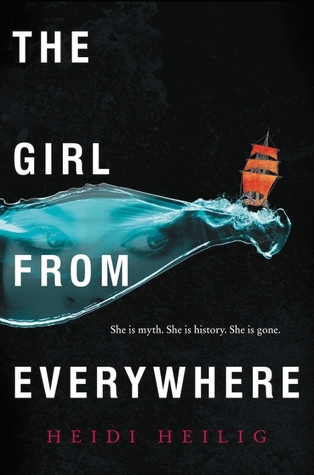 Here's another one that I'm not sure about.  I've heard a lot of good things about it though, so I'm willing to give it a shot.
Summary: Nix has spent her entire life aboard her father's ship, sailing across the centuries, across the world, across myth and imagination.
As long as her father has a map for it, he can sail to any time, any place, real or imagined: nineteenth-century China, the land from One Thousand and One Nights, a mythic version of Africa. Along the way they have found crewmates and friends, and even a disarming thief who could come to mean much more to Nix.
But the end to it all looms closer every day.
Her father is obsessed with obtaining the one map, 1868 Honolulu, that could take him back to his lost love, Nix's mother. Even though getting it—and going there—could erase Nix's very existence.
For the first time, Nix is entering unknown waters.
She could find herself, find her family, find her own fantastical ability, her own epic love.
Or she could disappear.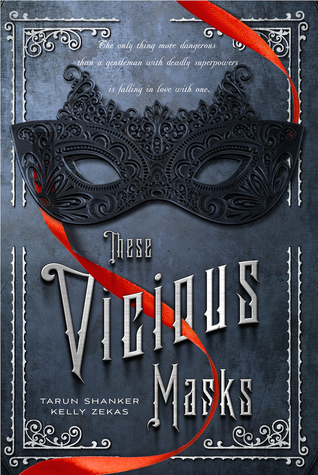 I'm a big fan of anything that is similar to X-Men with awesome powers that people just have.  However, I very much dislike Jane Austen.  That being said, I'm not sure that this is Jane Austen-style writing, which is what I dislike, but instead is set in that time frame.  I'm hoping for the latter since that means I'm more likely to enjoy it, but I have heard good things, so it should be good either way.
Summary: Jane Austen meets X-­Men in this gripping and adventure-­filled paranormal romance set in Victorian London.
England, 1882. Evelyn is bored with society and its expectations. So when her beloved sister, Rose, mysteriously vanishes, she ignores her parents and travels to London to find her, accompanied by the dashing Mr. Kent. But they're not the only ones looking for Rose. The reclusive, young gentleman Sebastian Braddock is also searching for her, claiming that both sisters have special healing powers. Evelyn is convinced that Sebastian must be mad, until she discovers that his strange tales of extraordinary people are true—and that her sister is in graver danger than she feared.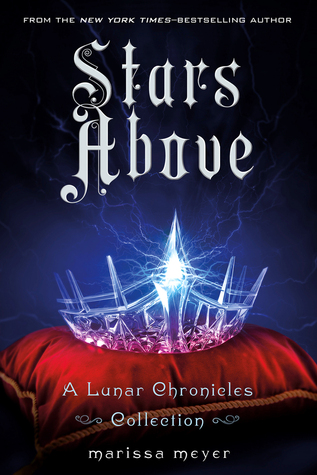 After I read Winter, this collection of short stories will be next.  I've loved The Lunar Chronicles thus far and am sad to see it end; however, that means the author can try her hand at something else.  I'm looking forward to it 🙂
Summary: The enchantment continues….
The universe of the Lunar Chronicles holds stories—and secrets—that are wondrous, vicious, and romantic. How did Cinder first arrive in New Beijing? How did the brooding soldier Wolf transform from young man to killer? When did Princess Winter and the palace guard Jacin realize their destinies?
With nine stories—five of which have never before been published—and an exclusive never-before-seen excerpt from Marissa Meyer's upcoming novel, Heartless, about the Queen of Hearts from Alice in Wonderland, Stars Above is essential for fans of the bestselling and beloved Lunar Chronicles.
—
The Little Android: A retelling of Hans Christian Andersen's "The Little Mermaid," set in the world of The Lunar Chronicles.
Glitches: In this prequel to Cinder, we see the results of the plague play out, and the emotional toll it takes on Cinder. Something that may, or may not, be a glitch….
The Queen's Army: In this prequel to Scarlet, we're introduced to the army Queen Levana is building, and one soldier in particular who will do anything to keep from becoming the monster they want him to be.
Carswell's Guide to Being Lucky: Thirteen-year-old Carswell Thorne has big plans involving a Rampion spaceship and a no-return trip out of Los Angeles.
The Keeper: A prequel to the Lunar Chronicles, showing a young Scarlet and how Princess Selene came into the care of Michelle Benoit.
After Sunshine Passes By: In this prequel to Cress, we see how a nine-year-old Cress ended up alone on a satellite, spying on Earth for Luna.
The Princess and the Guard: In this prequel to Winter, we see a game called The Princess
The Mechanic: In this prequel to Cinder, we see Kai and Cinder's first meeting from Kai's perspective.
Something Old, Something New: In this epilogue to Winter, friends gather for the wedding of the century.