This is an old post that I had accidentally posted as its own page.  So here it is as a post instead.  Thanks for understanding!
Since this is a new concept for me, and a newish medium, I'd like to talk about what I'm currently reading and what I just finished up.
Unfortunately for me, I have many books going for different projects, which would normally be fine, except that I'm also in the process of fixing up a house and moving.  So, my reading time has taken a large hit.  And I miss it 😦
Luckily, I've always been really good at juggling multiple reads, so I'm not lost when I pick back up a book after a few days (or weeks).  So without further ado, here is my current reading list!
 Prince of Fools by Mark Lawrence The Red Queen's War bk. 1
I'm listening to the audiobook for this right now through Audible, although I did purchase a UK paperback for my collection after winning an ARC of the sequel The Liar's Key from AceRocBooks via Twitter.  I actually wasn't trying to win, just share the information with my followers, but I'm now glad that I did.  I'm almost through book one, and I found myself enjoying the characters and world building more than expected.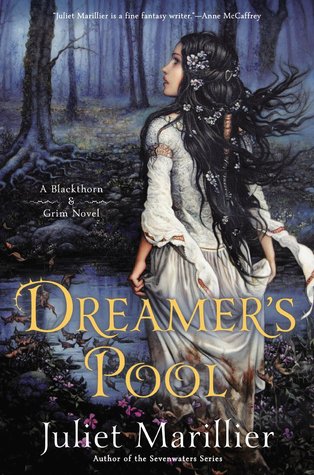 Dreamer's Pool by Juliet Marillier Blackthorn & Grim bk. 1
I have this book checked out from the library in physical and ebook formats.  This book has actually been in my TBR list since its release, as I really enjoyed Daughter of the Forest, but I'm actually reading this one now because I received an ARC of Tower of Thorns through my participation in the AceRocStars street team.  I'm only on chapter 4, but so far I like the two main characters and look forward to wherever the story takes me.
 Dark Currents by Jacqueline Carey Agent of Hel bk. 1
I'm reading this series because next weekend is ARCHON St. Louis, where the author is a guest of honor!!  I met her back in January at ALA Midwinter, where I picked up a free, signed hardcover of Poison Fruit courtesy of Penguin Publishing.  I had hoped to have the whole series done by now, but life gets in the way sometimes.  Once again, I'm not far in, but I love the urban fantasy aspects of this book and the main character is pretty cool.
 The Terrans by Jean Johnson First Salik War bk. 1
Another ARC I received from the AceRocStars.  I've been working on this one for over a month, and while I do like what I'm reading, this is new territory for me.  I'm more of a fantasy girl, and this is sci-fi.  Military sci-fi in fact, which I have very little experience with nor would I have sought it out on my own, I think.  But I do plan on finishing this one eventually.  I even picked up the first book in her Theirs Not to Reason Why series, A Soldier's Duty because it sounded really interesting.
 Maplecroft by Cherie Priest The Borden Dispatches bk. 1
I'm reading this one to catch up to the sequel, Chapelwood, which I received an ARC of from the AceRocStars.  (Noticing a theme yet?)  This one's written in epistolary style and has a more horror/dark fantasy slant with a mix of historical thrown in for good measure.  I've heard good things, so here's hoping.
 Magic Bites by Ilona Andrews Kate Daniels bk. 1
This one's been on my list for forever, but since there's over 500 titles on that list, I just hadn't gotten around to this one yet.  But, AceRocStars sent out a paperback of Magic Breaks and an eARC of Magic Shifts a couple of months back, so here I am.  Finally starting this 8+ book series.  Fortunately, Ilona Andrews has an easy-to-read writing style, and I have full faith that I'll fly right through these.  Once I have the time…
That's what I'm currently reading.  Basically, I've started several new series to work my way into ARCs I need to review.  Now, here's the books I have recently finished in the last couple of weeks!!

  I just finished this one, and I'm working on my review.  Problem is I have mixed feelings about it, so I'm trying to sort those out in order to write something informative.  Also, I got an ARC of The Rose Society through work, so I might wait until after I read it.
  These are books 4 & 5 of the Morgan Kingsley series, which I started in high school when it first came out.  I just never read the final book, so I re-read book 4 to understand where the story was as I left it and finished the fifth and final one.  Since these are older books, I haven't decided if I'll post single reviews or a series review.  (All 5 of my copies are now signed thanks to Jenna Black's amazing generosity of signing some book plates for me!)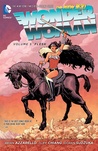 The New 52's take on Wonder Woman started off good, and I was really invested in the story, but by volume 4 the story took a weird turn that just didn't feel right for Wonder Woman.  Not sure if I can continue reading this series.
  This book was amazing!!  I completely devoured it and am working on my review.  Even though it had one of those annoying cliffhanger endings, I was satisfied with the threads that were tied up in the conclusion.  It also helps that I got an ARC of The Mirror King through work 🙂
WHEW!! That's it for this long post!  Next time, I'll post about my 2015 reading challenges!