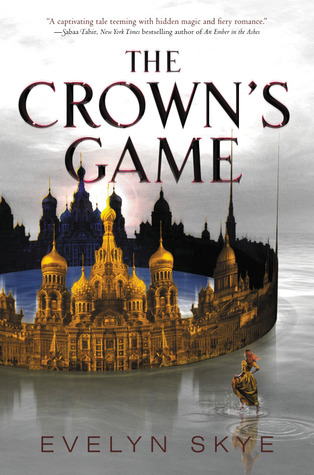 Hardcover, 416 pages
Expected publication: May 17th 2016 by Balzer + Bray
I really enjoyed this book.  It was a bit different from the usual fantasy young adult fare in that the setting is Russia.  But not only is it set in an Asian country, it's also set back in time.  I enjoyed reading something different, and the Russian setting worked extremely well with both the plot and the characters.  The world building painted a lush picture of several aspects of the country, including the imperial family, lower nobility, peasants, and the differences between city life and country life.
The magic presented in the narrative felt natural and surrealistic at the same time.  We're given just enough description of the magic system that it fits within the world but there are still plenty of questions that the mystery and intrigue furthers the plot.  I was a little confused by some of the stated magical rules that were later broken without explanation.  However, I expect some of these issues may be resolved or addressed in the sequel, which I am excited to read.
Normally, I latch onto the characters more than the setting, but while I did find the characters to be interesting, I was more compelled to continue as I wanted to know more about the magical competition than the enchanters and their friends.  The love triangles also didn't seem necessary to make the story better.  Despite these small downsides, I was impressed by this story and would definitely recommend it to all my friends.  Especially if you are looking for more diverse books 🙂
This review is based on an uncorrected proof.
Summary:
Vika Andreyeva can summon the snow and turn ash into gold. Nikolai Karimov can see through walls and conjure bridges out of thin air. They are enchanters—the only two in Russia—and with the Ottoman Empire and the Kazakhs threatening, the Tsar needs a powerful enchanter by his side.
And so he initiates the Crown's Game, an ancient duel of magical skill—the greatest test an enchanter will ever know. The victor becomes the Imperial Enchanter and the Tsar's most respected adviser. The defeated is sentenced to death.
Raised on tiny Ovchinin Island her whole life, Vika is eager for the chance to show off her talent in the grand capital of Saint Petersburg. But can she kill another enchanter—even when his magic calls to her like nothing else ever has?
For Nikolai, an orphan, the Crown's Game is the chance of a lifetime. But his deadly opponent is a force to be reckoned with—beautiful, whip smart, imaginative—and he can't stop thinking about her.
And when Pasha, Nikolai's best friend and heir to the throne, also starts to fall for the mysterious enchantress, Nikolai must defeat the girl they both love… or be killed himself.
As long-buried secrets emerge, threatening the future of the empire, it becomes dangerously clear… the Crown's Game is not one to lose.