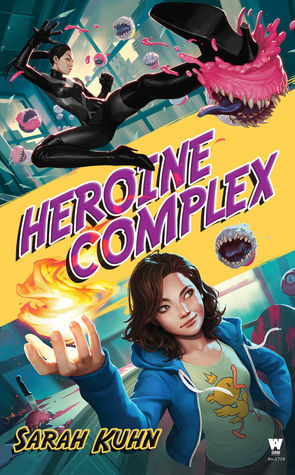 Paperback, 368 pages
Expected publication: July 5th 2016 by DAW
As we approach county fair season, I've been devoting more time and energy to creating entries, but I had to take a time out to finish reading this book!  I first discovered this book because of the cover artist, Jason Chan.  Many of you may know him from his many other cover creations, including Jay Kristoff's Lotus War series, or from Magic the Gathering card art.  Heroine Complex starts in the middle of the scene depicted on the cover, kicking cupcake demon butt in San Francisco.  From there the snark and sass just ooze off the page as the demons racket up their obnoxious plan to take over the city.
 I really enjoyed this take on superheroes as we delved into the everyday tasks and relationships that are behind the scenes of every successful hero/heroine.  The relationship emotions were well-defined and truthful to the situations being described throughout the book.  They were occasionally rushed and maybe not quite built into the characters as early as they should be, but the emotions were genuine and matched the respective characters.  I was especially pleased with the urbanization of language and the pop culture references.  Both of these, and the hokeyness of the villain, played to many of the tropes found in superhero comics and TV shows.
The ending was quite satisfactory, but I can't help wanting more.  These characters were very compelling, and I grew attached to them.  I don't think there are any planned sequels, but I'm putting out my desire for a companion in the future.  Honestly, you should just put in your pre-order now.  Don't wait!!
Summary:
Being a superheroine is hard. Working for one is even harder.
Evie Tanaka is the put-upon personal assistant to Aveda Jupiter, her childhood best friend and San Francisco's most beloved superheroine. She's great at her job—blending into the background, handling her boss's epic diva tantrums, and getting demon blood out of leather pants.
Unfortunately, she's not nearly as together when it comes to running her own life, standing up for herself, or raising her tempestuous teenage sister, Bea.
But everything changes when Evie's forced to pose as her glamorous boss for one night, and her darkest comes out: she has powers, too. Now it's up to her to contend with murderous cupcakes, nosy gossip bloggers, and supernatural karaoke battles—all while juggling unexpected romance and Aveda's increasingly outrageous demands. And when a larger threat emerges, Evie must finally take charge and become a superheroine in her own right… or see her city fall to a full-on demonic invasion.
Reviewed from an uncorrected proof provided by the publisher in exchange for an honest review.