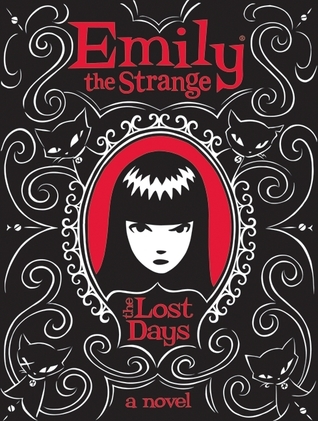 Reger, Rob.  Emily the Strange: The Lost Days.  R  Gr. 5-8
A girl wakes up on a park bench one day with no memory, just a notebook, pencil, and a slingshot.  Maybe this wouldn't be so bad if anyone in Blackrock (the tiny town she seems to be stuck in) could help her remember anything about herself or her situation.  She does know a few things: she's a girl; she likes black; she likes the number thirteen; she's good at drawing. She's also resourceful as she trades labor for lunch at a sandwich shop.  The reader can only read faster to find out just who this girl is since it's her journal, and we don't know any more than she tells us; although, as she starts putting together clues (that seem to be left where only she could find them throughout the town), the reader has the opportunity to make connections along with the protagonist.  With each clue, she discovers more about herself and her situation, starting with her name, which is Emily, and she has four smart cats (they help her find some of the clues).  She knows that she's a little strange, but she doesn't know how strange until she puts together that Raven, the sandwich shop girl, is a golem that Emily created, and the amnesia the protagonist suffers is self-inflicted.  For really good reasons, she is protecting a family secret from a villainous character who (with the help of an employee who can read minds) would use it for nefarious purposes.
This is the first novel (of a four part series) starring Emily the Strange.  She originated from a skateboard art design and eventually starred in a comic book.  Using a blend of journal entries with drawings made by Emily, the authors are able to portray her in her own voice, creatively engaging the reader.  I enjoyed the simple art; it was more finished than I would imagine sketches in a notebook would look, but the black, white, and red palette showcased the same emotions that Emily's written entries portray.  The mystery (with a hint of fantasy elements) is in the lead from page one, and the reader is kept guessing throughout the narrative.  One memorable entry describes how Emily remembered who she was and what she is doing in Blackrock and how disastrous this is, so she makes sure that she loses all her memories all over again.  This evoked frustrating emotions within me since we were so close to finding out what the big secret was.  The climax was emotionally-wrenching but appropriate, and the authors did a fantastic job of conveying Emily's frustration with her situation and the amazing discovery of her genius.
Emily the Strange can be an interesting character to use in a teen area display.  I have actually created a display that emphasized her solid self-esteem, ingenuity, and opinionated sayings.  Be careful of copyright issues here by contacting the publisher, but there is an initiative to spread her visage across the States, so you can find promotional materials available on the internet.  Emily will resonate with teenagers who don't feel normal but can't express themselves in their own words.
Redd's Rating: Creative must