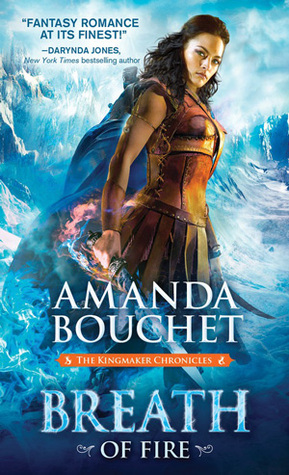 Paperback, 448 pages
Expected publication: January 3rd 2017 by Sourcebooks Casablanca
As much as I loved the first book, I was prepared to be disappointed by the second book in a proposed trilogy.  However, I was ecstatic to receive early access on NetGalley (in exchange for an honest review), and even more excited when Breath of Fire was just as good as A Promise of Fire.  I'm not exaggerating either!
Amanda Bouchet was able to jump the hurdle of a defunct trilogy middle that is all exposition and no moving action.  This book starts exactly where the first left off but then gets rather rocky as secrets are revealed and Griffin gets a bit aggressive and borderline abusive.  I think that the reaction fits both of the characters and their situation.  Also, I want to point out that no one was actually hurt, and that kind of almost abuse does not happen again.  Once the short roller coaster of emotional turmoil is past, the rest of the book's pacing makes more sense.
I really don't want to spoil anything, but know that the gods have a bit more page time, there's more steamy scenes between Cat and Griffin, and lots of traveling.  There's plenty of character building and some more world building.  We even get to see more creatures, some new and some previously described.  That's just say that there was plenty to get excited about.  I thought the ending wrapped up nicely, but I was saddened by the fact that it was the end and book three doesn't come out for a while yet.
This has to be one of my favorite new series, and I am looking forward to see where this series goes and how it ends.  But I hope that after this series there might be more stories written in this world.
Summary:
SHE'S DESTINED TO DESTROY THE WORLD…
"Cat" Catalia Fisa has been running from her destiny since she could crawl. But now, her newfound loved ones are caught between the shadow of Cat's tortured past and the threat of her world-shattering future. So what's a girl to do when she knows it's her fate to be the harbinger of doom? Everything in her power.
BUT NOT IF SHE CAN HELP IT
Griffin knows Cat is destined to change the world-for the better. As the realms are descending into all-out war, Cat and Griffin must embrace their fate together. Gods willing, they will emerge side-by-side in the heart of their future kingdom…or not at all.