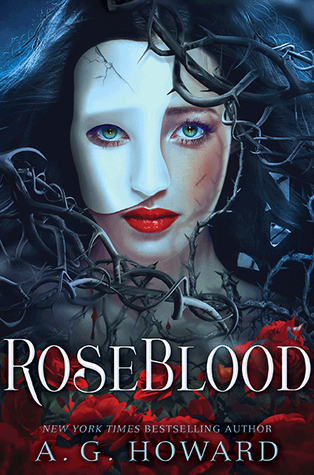 Hardcover, 432 pages
Expected publication: January 10th 2017 by Amulet Books
Even though I still haven't read Splintered, I'm excited that A.G. Howard has decided to tackle another retelling.  This time, though, it's The Phantom of the Opera.  Having read the original work when I was younger (boy, was it dark and kind of gruesome) and enjoying the film version, I was excited to hear that someone was writing a retelling.
It's not in the usual vein of stories chosen for re-writes, and that's awesome because I can only read so many Cinderella and Snow White stories before I say enough.  2017 appears to have a nice change in the retellings trend with RoseBlood and Wintersong (think Labyrinth) as two of the ones I'm most excited for!
Summary:
In this modern day spin on Leroux's gothic tale of unrequited love turned to madness, seventeen-year-old Rune Germain has a mysterious affliction linked to her operatic talent, and a horrifying mistake she's trying to hide. Hoping creative direction will help her, Rune's mother sends her to a French arts conservatory for her senior year, located in an opera house rumored to have ties to The Phantom of the Opera.
At RoseBlood, Rune secretly befriends the masked Thorn—an elusive violinist who not only guides her musical transformation through dreams that seem more real than reality itself, but somehow knows who she is behind her own masks. As the two discover an otherworldly connection and a soul-deep romance blossoms, Thorn's dark agenda comes to light and he's forced to make a deadly choice: lead Rune to her destruction, or face the wrath of the phantom who has haunted the opera house for a century, and is the only father he's ever known.