Hardcover, 256 pages
Published January 3rd 2017 by Amulet Books
 I knew nothing about this book before I traded for it through #booksfortrade, but it looked interesting and was a newly translated release.  I actually got it read this past weekend when a cold decided to take up residence within my skull.  I couldn't sleep and had watched too much TV by Sunday afternoon, so I picked up the closest book to my reading nook, which happened to be this title.  I wasn't intending to just pick it up and read.  Normally, I select several and kind of read the back cover and beginning chapter or pages until something drags me between the pages and I forget to come out again.
Let's just say, this book led me away like a siren, and me the foolish pirate who didn't even notice she was drowning.  Luckily, that was a good thing here!
I devoured this book very quickly that afternoon due to a couple of things.  First, the story's pacing was great plus the translation wasn't rigid.  It was so fluid that I didn't realize it was a translation until I did some research for this review.  The other reason was page length.  This book did not include superfluous pages.  The world building, characterization, and story were all given plenty of room to build and grow.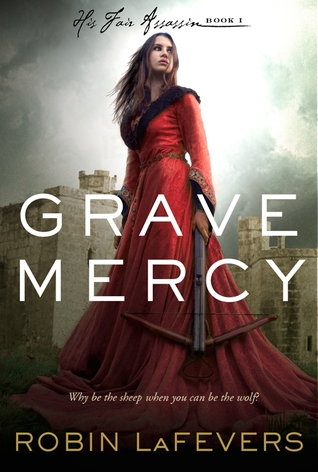 I did find myself comparing Maresi to Robin LaFevers' Grave Mercy due to the similarities of girl goes to secluded place of full of only women following ancient traditions.  But then this story branches off and explores different themes than Grave Mercy.  So, it doesn't feel like I've read the same story twice.
My last comment on this fun and fantastic book, is that I appreciated that these abused, disadvantaged girls weren't all put there after being raped.  Rape is talked about, but the main character was not abused by her family or any other man.  That might be because the audience is more focused on middle grade than teen, but it was a relief nonetheless.
I recommend anyone looking for a good, fast read pick this up and share with friends!
Summary:
Only women and girls are allowed in the Red Abbey, a haven from abuse and oppression. Maresi, a thirteen-year-old novice there, arrived in the hunger winter and now lives a happy life in the Abbey, protected by the Mother and reveling in the vast library in the House of Knowledge, her favorite place. Into this idyllic existence comes Jai, a girl with a dark past. She has escaped her home after witnessing the killing of her beloved sister. Soon the dangers of the outside world follow Jai into the sacred space of the Abbey, and Maresi can no longer hide in books and words but must become one who acts.