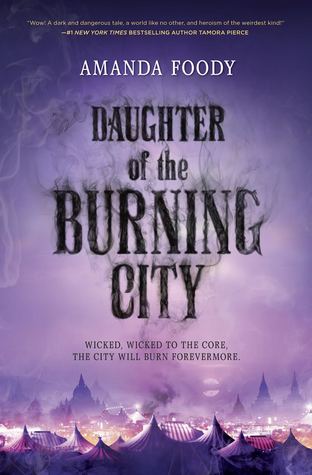 Hardcover, 384 pages
Published July 25th 2017 by Harlequin Teen
I have mixed feelings about this book.  On the one hand, I thought the concepts and characters were really interesting.  On the other, it took me almost three weeks to finish reading.  Not sure if that's because of pacing in the book or because of real life issues I was dealing with, but I'm disappointed that it took me so long to finish.  As a debut, Daughter did a great job introducing characters and various levels of story threads.  I think it could have used a bit more world building though since this is a planned stand-alone.
Throughout the story, I felt myself questioning why certain things were happening and how Gomorrah fit into the rest of the world.  I also kept forgetting that our main character was only 16, but I always have that issue, and that she has no eyes.  I certainly liked this aspect, but we find out a little more about it while investigating things later in the story, but I'm not sure I quite understand the whole missing organ that still works just fine bit.
I will definitely be recommending this book to friends, family, and random internet folk like my readers here.  I never thought about giving up on the book, and it was definitely different and compelling.  The author is lovely human being, who I met at ALA Annual a couple months ago.  I even won a set of eyeshadow colors from promoting the release (I'll share more on that in a different post soon!)  There's a whole lot of awesome going on in this book that readers will for sure enjoy.  I just got a little hung up on miscellaneous stuff.
Have you read it yet?  What were your thoughts?
Summary:
A darkly irresistible new fantasy set in the infamous Gomorrah Festival, a traveling carnival of debauchery that caters to the strangest of dreams and desires.
Sixteen-year-old Sorina has spent most of her life within the smoldering borders of the Gomorrah Festival. Yet even among the many unusual members of the traveling circus-city, Sorina stands apart as the only illusion-worker born in hundreds of years. This rare talent allows her to create illusions that others can see, feel and touch, with personalities all their own. Her creations are her family, and together they make up the cast of the Festival's Freak Show.
But no matter how lifelike they may seem, her illusions are still just that—illusions, and not truly real. Or so she always believed…until one of them is murdered.
Desperate to protect her family, Sorina must track down the culprit and determine how they killed a person who doesn't actually exist. Her search for answers leads her to the self-proclaimed gossip-worker Luca, and their investigation sends them through a haze of political turmoil and forbidden romance, and into the most sinister corners of the Festival. But as the killer continues murdering Sorina's illusions one by one, she must unravel the horrifying truth before all of her loved ones disappear.