Hardcover, 358 pages
Published June 5th 2012 by Henry Holt and Company
 To be completely honest, Leigh Bardugo wasn't on my radar until after the release of Six of Crows when I attended ALA for the first time through work.  I had heard really great things about it and that the sequel would be releasing soon, so I bought a used copy of Shadow and Bone to get signed and made up bookplates as well.  Just in case I fell in love with her writing 🙂
After meeting her briefly in the signing line and seeing her have lots of fun up on stage with Marissa Meyer, who I did love, I was convinced I would love Leigh's books as well.  Unfortunately, I still didn't get around to making time to read any of them until last week.  When I knew I was planning to meet her on tour tomorrow!  (I think it might have been that the original cover doesn't appeal to me very much.)
When I finally did start reading the first Grisha book, I was not at all surprised to find that I did like the story.  A lot!  I was compulsively reading it whenever possible and finished it quickly.  There are a lot of reviews out there that break the book down and talk about worldbuilding and characterization (both are great).  And plenty of fans that will tell you how amazing the author is (it's true).  Plus several that will mention that the story isn't new (because it's not).  However, the only opinion that matters is how this story makes you feel.  That's what reading is all about, right?
I liked this story a lot.  The characters were fun and the world was interesting (if a little confusing on some points).  But it made me remember why I like reading.  And that's pretty awesome 🙂  So I definitely plan to finish this first trilogy and dive into Six of Crows with high expectations.  And hopefully, Leigh stills has some stories to tell in this world!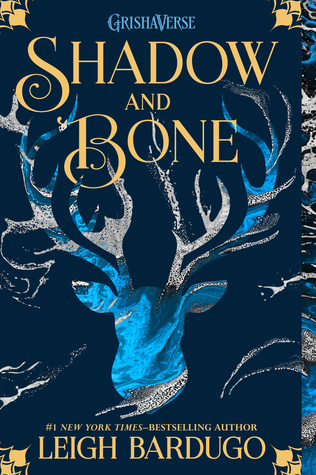 Summary:
Surrounded by enemies, the once-great nation of Ravka has been torn in two by the Shadow Fold, a swath of near impenetrable darkness crawling with monsters who feast on human flesh. Now its fate may rest on the shoulders of one lonely refugee.
Alina Starkov has never been good at anything. But when her regiment is attacked on the Fold and her best friend is brutally injured, Alina reveals a dormant power that saves his life—a power that could be the key to setting her war-ravaged country free. Wrenched from everything she knows, Alina is whisked away to the royal court to be trained as a member of the Grisha, the magical elite led by the mysterious Darkling.
Yet nothing in this lavish world is what it seems. With darkness looming and an entire kingdom depending on her untamed power, Alina will have to confront the secrets of the Grisha . . . and the secrets of her heart.