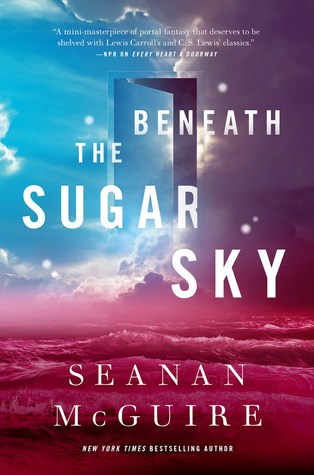 Hardcover, 160 pages
Expected publication: January 9th 2018 by tor.com
As expected, I loved this installment just as much as much as the previous two!  This story picks up shortly after the end of Every Heart a Doorway and gives us several new characters to fall in love with as well as checking up on others from the first book.  I really enjoyed the mix of fresh and loved character development.  We were even treated to more diverse characters such as a Muslim baker and a bigger girl happy with her appearance.
I can't wait for more of these books to follow!  Seanan confirmed that there are plans to continue the series for another couple of books at least.  And hopefully more.  As long as they keep selling, they will keep coming.  I wholeheartedly support this trend and will do my best to make sure that the publisher knows we want more!
Summary:
Beneath the Sugar Sky returns to Eleanor West's Home for Wayward Children. At this magical boarding school, children who have experienced fantasy adventures are reintroduced to the "real" world.
Sumi died years before her prophesied daughter Rini could be born. Rini was born anyway, and now she's trying to bring her mother back from a world without magic.