I realized that it's been a while since I've shared any substantial reviews, so here's a joint review for 2 books that I read in 2018 and loved!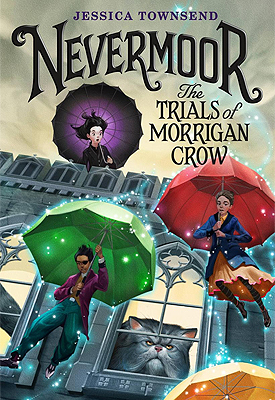 Hardcover, Large Print, 640 pages
Published October 31st 2017 by Little, Brown Books for Young Readers
With great narrative prose and pacing, this book feels like Harry Potter and the Goblet of Fire without being a copycat.  The world building and characters played along nicely and the story unfurled as our protagonist discovered new and interesting aspects about herself and her patron.
I don't know what to say that won't give away spoilers, which will be even more true in the next section for the sequel, but know that I picked up this book and read it over three days during my sparse free time.  Utterly compelling, you won't be disappointed!
Hardcover, 544 pages
Published November 13th 2018 by Little, Brown Books for Young Readers
As I mentioned above, it'll be hard for me to say much about the story or characters specifically without spoiling parts of book 1 or this wonderful sequel.  It was just as enjoyable as the first book.  We learn more about those wispy story threads that were left dangling from the first book even as new ones appear to replace them.  It truly was a grand escape from real life during a busy time of year.
Sometimes second installments don't live up to the hype of the first one, but I was pleasantly surprised by the compulsion I felt to finish this one as well.  It didn't take more than a few days to finish this chunky book.  And, of course, now I can't wait for the next one!
Have you read either of these yet?  I'd love to hear your thoughts!  Leave them in the comments.