Down The TBR Hole is a meme from Lost in a Story that revolves around cleansing your TBR of all those books you're never going to read and sort through it all to know what's actually on there.
Most of you probably know this feeling, your Goodreads TBR pile keeps growing and growing and it seems like there is no light at the end of the tunnel. You keep adding, but you add more than you actually read. And then when you're scrolling through your list, you realize that you have no idea what half the books are about and why you added them. Well that's going to change!
It works like this:
Go to your goodreads to-read shelf.
Order on ascending date added.

Take the first 5 (or 10 (or even more!) if you

'

re feeling adventurous) books. Of course, if you do this weekly, you start where you left off the last time.

Read the synopses

 

of the books

Decide: keep it

 

or should it go?
I don't know why, but I have the hardest time picking up steampunk books.  I love steampunk and this one has faeries in it, so I have to make some time for this one.
Keep 🙂
Yasmine Galenorn has a great writing style and I'm sad that I got behind on the Otherworld Women series as it means I keep not picking up her newer series as well.  Keep 🙂
To be honest, I'm going to have to start at the beginning of this series to remember everything properly.  I really want to but keep finding other books that interest me more.  It doesn't help that I got behind at book 8.  Keep 🙂
This one sounded great, and the cover is intriguing, but I think I've lost my appetite for angel/demon crossovers.  Remove 😦
I'm going to have to pick a month and just read all the anthologies I've picked up.  I'm always afraid that I'll get attached to characters that will never have another adventure for me to read about.  Keep 🙂
This was an impulse buy, and I'm on the fence about it.  It still sounds good though, so I'll probably try to read the first couple of chapters to see if it sucks me in.  Keep 🙂
I love the cover of this book, and the story sounds awesome!  Must read soon.  Keep 🙂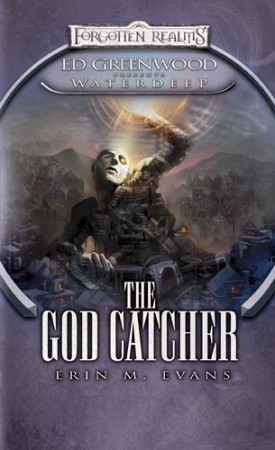 This one is set in the Dungeons and Dragons universe, and while normally I don't care for Forgotten Realms novels, this one still grabs my attention.  Keep 🙂
Here's a book that involves magic, books, and libraries.  Why haven't I read this one yet?!?  Keep 🙂
I've actually started this one multiple times.  Don't ask me why I've never gotten past chapter 5 though.  I just need to finish it.  Keep 🙂
I'm not sure that this project is helping me clean off my shelves as much as I was hoping, but it is reminding me that I own a lot of really cool books that I haven't had the chance to read yet.  How about you?  Any books on this list that I can skip?  Or maybe need to read right away?  Let me know in the comments!