Today, I want to gush and nerd out about one of my favorite series, which also happens to be one of the best written trilogies I've ever read.
NEVERNIGHT
There are many reasons that my love of this series has grown into obsession, but mainly I think it's because of the fabulous fanart I've been inspired to make.  Recently, in a pottery class, I crafted 2 versions of the ever-present crow dagger.  The first one had some promise but ultimately didn't match my vision.
It's not terrible, but I think I made the crow's head a bit too large.  Additionally, the handle fell off during the first baking phase.  My second attempt more closely resembles the cover images from the US covers.  The shape of the blade and the crow handle feel more like they fit with the world than the first one anyway.
It, too, has some flaws.  It didn't bake flat, so the whole thing kind of bows up.  I also don't think the handguard is as fantastic as it could have been, but I'm a bit impressed that I was able to create something that I am proud of.  I imagine it will start cropping up in later social media posts.  And in my Darkdawn review, which won't post until the beginning of September.
During my reread earlier this year, I marked in my paperback copies of Nevernight and Godsgrave various scenes, quotes, and masterful uses of language from the author.  From this I've worked on a couple of fanart bits to complement the stippling art I made of Eclipse and Mr. Kindly last year.  (Although it was time consuming, I LOVE how it turned out!)
So far, I've only completed one project.  But it was pretty fantastic!  This scene is found rather early in book 1 when Mia and Bastard encounter the sand krakens for the first time together.  It also took quite a bit of time, but I like how it came out.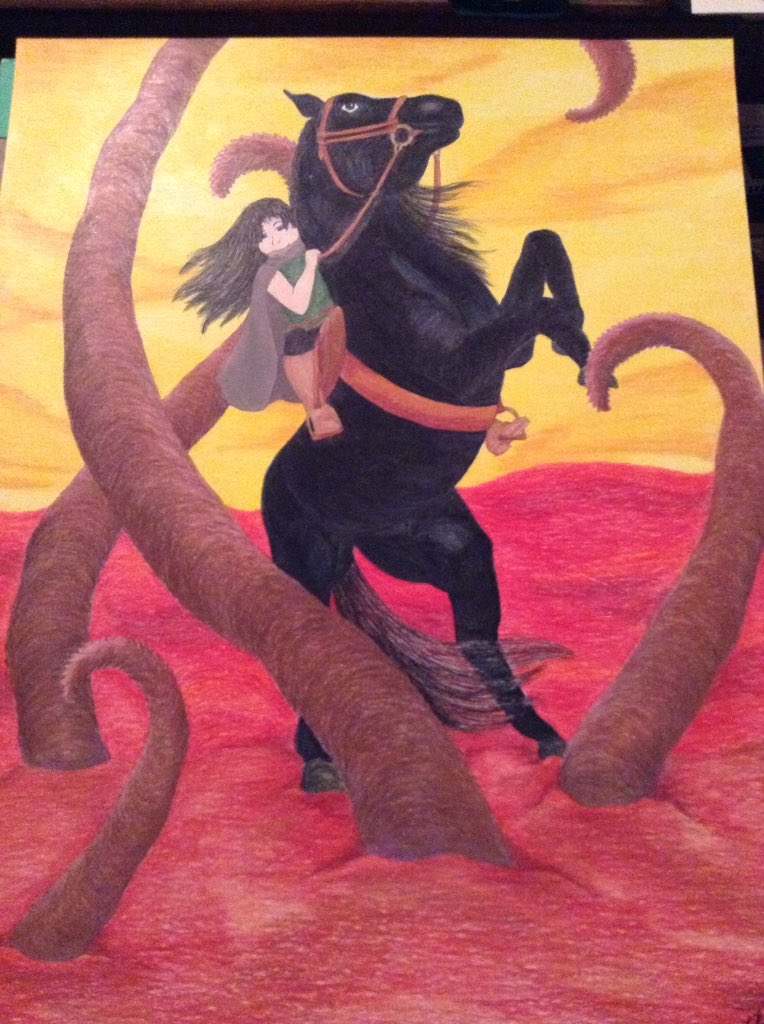 I'm hoping to finish some quote art, but I've had to restart that project a couple times due to my not liking it.  At all.  So that one's on the back burner.  There's another one that I just need to get back to to finish, but it's a minor spoiler from Darkdawn.  *My review will contain some spoilers because otherwise I'd just be saying, "Go read it for yourself!  It's amazing!"  So look for a fanart piece or two to be shared there!
Thanks for sticking around this long!  Feel free to share your thoughts about the series in the comments.  I'm always looking for new fans to geek out with 🙂