Here's three new books this year that I didn't know I would be reading.  On a whim, I picked these up and ended up reading each in a single day.  While they aren't the best books I've read this year, I wanted to share them with you because of their content and the questions they ask and answer.  Read on for brief summaries and my thoughts and opinions on each.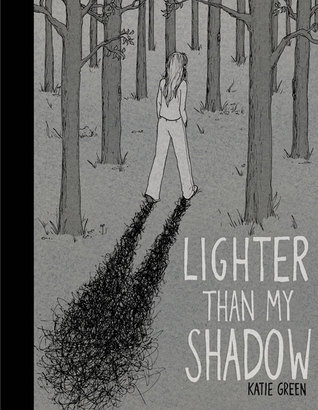 Lighter Than My Shadow by Katie Green
Summary:
Like most kids, Katie was a picky eater. She'd sit at the table in silent protest, hide uneaten toast in her bedroom, listen to parental threats that she'd have to eat it for breakfast.
But in any life a set of circumstance can collide, and normal behavior might soon shade into something sinister, something deadly.
Lighter Than My Shadow is a hand-drawn story of struggle and recovery, a trip into the black heart of a taboo illness, an exposure of those who are so weak as to prey on the vulnerable, and an inspiration to anybody who believes in the human power to endure towards happiness.
My Thoughts:
This is a painfully frank and graphic description of what it feels like to live with an eating disorder.  As someone who has not lived through this but loves to eat and frequently stress eats, I've often wondered what it feels like.  Since this is a memoir, I can only assume that the author has the authority to speak on this subject as I have no point of reference.  Even without color, I found myself drawn into this powerful story of pain, suffering, asking for help, and following through again and again.  If you want to see inside the head of someone battling a variety of eating disorders and the kind of help you can seek.  I'm looking forward to reading this story again in color when it releases to see what impact that provides.
-Reviewed from an advance copy through work, trigger warnings for sexual abuse, nudity, and slicing off body fat
Thornhill by Pam Smy
Summary:
Parallel stories set in different times, one told in prose and one in pictures, converge as Ella unravels the mystery of the girl next door.
1982: Mary is a lonely orphan at the Thornhill Institute For Children at the very moment that it's shutting its doors. When her few friends are all adopted or re-homed and she's left to face a volatile bully alone, her revenge will have a lasting effect on the bully, on Mary, and on Thornhill itself.
2016: Ella has just moved to a new town where she knows no one. From her room on the top floor of her new home, she has a perfect view of the dilapidated, abandoned Thornhill Institute across the way, where she glimpses a girl in the window. Determined to befriend the girl, Ella resolves to unravel Thornhill's shadowy past.
My Thoughts:
Here's two stories that parallel each other, told through differing mediums.  The past is told through journal entries belonging to Mary while Ella's present story is told through wordless illustrations.  The story flowed really well and I devoured the whole book in one sitting.  My main issue with the story is that <SPOILER> it appears that Ella commits suicide at the end to be friends with Mary, who had also committed suicide due to bullying.  And a third girl is introduced at the end, mirroring the beginning of the book and suggesting that the cycle will probably continue.  So I'm conflicted about whether I'd be comfortable recommending this book to middle schoolers, who I believe are the intended target audience.
-Reviewed from an advanced copy through work, trigger warnings for suicide, bullying, and possible off screen rape
The Witch Boy by Molly Ostertag
Summary:
In thirteen-year-old Aster's family, all the girls are raised to be witches, while boys grow up to be shapeshifters. Anyone who dares cross those lines is exiled. Unfortunately for Aster, he still hasn't shifted . . . and he's still fascinated by witchery, no matter how forbidden it might be.
When a mysterious danger threatens the other boys, Aster knows he can help — as a witch. It will take the encouragement of a new friend, the non-magical and non-conforming Charlie, to convince Aster to try practicing his skills. And it will require even more courage to save his family . . . and be truly himself.
My Thoughts:
This story did not go the way I thought.  From the description and the beginning of the story, I thought this might be about transgender expectations.  Instead, the story tackled gender a little differently.  I'm not sure that the characters did much for me, but I like that this graphic novel is something that can be given to middle schoolers as part of the ongoing discussion of why we separate genders in so many areas.  It may not be my favorite, but I already know a few people I'll be sharing this.
-Reviewed from an advanced copy through work, no overt trigger warnings