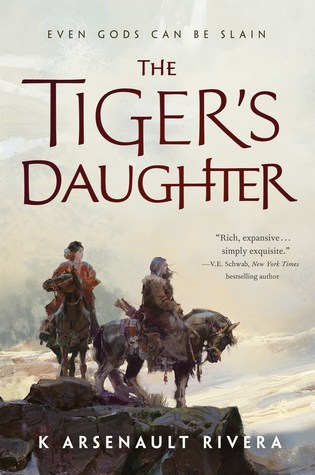 Paperback, 512 pages
Expected publication: October 3rd 2017 by Tor Books
 I fell in love with the description of this book as soon as I read it.  The teaser chapters just added to the intrigue and built up my excitement!  I was lucky enough to be approved for an eArc on NetGalley and then traded for a physical copy on #booksfortrade (I prefer to read physical copies when possible).  The first half of the book really captured my attention and left me always wanting more of this story and characters.  It reads similarly to The Name of the Wind by Patrick Rothfuss in that the bulk of the story is told like a series of long flashbacks.  The difference between the two tellings being that Rothfuss had his narrator telling his own life story whereas Rivera has one of her main characters relating her life story in relation to the other main character in the form of a very, very long letter.
Like I said, I devoured the first half of the book.  But when I reached about page 300, I felt myself slowing down drastically.  The story was still fascinating, and the character growth was still great.  The issue I had was the wordiness and pacing.  I wanted to know more about the present story line, which was only briefly mentioned a handful of times.  I also wanted to know more about the magic, the idea of slaying gods, and why I was supposed to care about some of the side characters.
I fully expect that the next book in the series will see some of these things answered and some of the structural issues smoothed out.  I can't wait to see what wonderful ideas this author has to share with us in the future.  Definitely an author to watch!
Summary:
Even gods can be slain….
The Hokkaran empire has conquered every land within their bold reach―but failed to notice a lurking darkness festering within the people. Now, their border walls begin to crumble, and villages fall to demons swarming out of the forests.
Away on the silver steppes, the remaining tribes of nomadic Qorin retreat and protect their own, having bartered a treaty with the empire, exchanging inheritance through the dynasties. It is up to two young warriors, raised together across borders since their prophesied birth, to save the world from the encroaching demons.
This is the story of an infamous Qorin warrior, Barsalayaa Shefali, a spoiled divine warrior empress, O-Shizuka, and a power that can reach through time and space to save a land from a truly insidious evil.