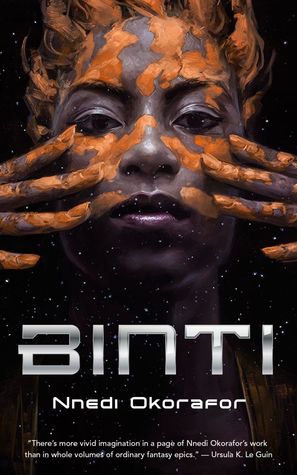 Paperback, 90 pages
Published September 22nd 2015 by Tor.com
Novellas, short stories, and other short fiction and I have never really gotten along.  Mainly because I grow attached to characters and always want more of their stories.  That said, I recently discovered the wonderful collection of novellas published by Tor.com, and fell in love with the wonderful worlds and splendid plots laid out by the authors.
Binti by Nnedi was one that I was drawn to upon learning about its main character's heritage (drawn from African lore I believe) and the strange jellyfish-like aliens that she encounters.  I did find myself growing attached in such a way that when I turned the last page it was with regret for having to leave that world after only 90 short pages.  Luckily, Binti's story is not over.  There is a second book already out and a third is planned for January of 2018.  I think I'll wait to read them all together though as I don't want to face the same heartache too soon.
Nnedi's other work includes Akata Witch, which I'm excited to start reading soon, and Who Fears Death, which has been recently optioned for a TV series with HBO.  I hope they don't screw it up 🙂
Summary:
Her name is Binti, and she is the first of the Himba people ever to be offered a place at Oomza University, the finest institution of higher learning in the galaxy. But to accept the offer will mean giving up her place in her family to travel between the stars among strangers who do not share her ways or respect her customs.
Knowledge comes at a cost, one that Binti is willing to pay, but her journey will not be easy. The world she seeks to enter has long warred with the Meduse, an alien race that has become the stuff of nightmares. Oomza University has wronged the Meduse, and Binti's stellar travel will bring her within their deadly reach.
If Binti hopes to survive the legacy of a war not of her making, she will need both the gifts of her people and the wisdom enshrined within the University, itself – but first she has to make it there, alive.