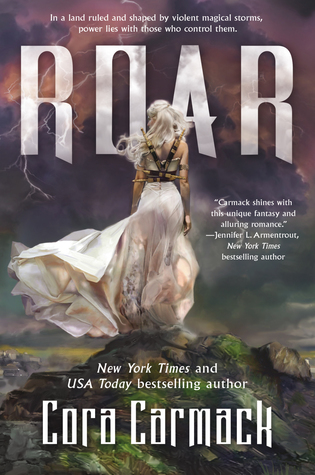 Hardcover, 380 pages
Expected publication: June 13th 2017 (TODAY!!) by Tor Teen
Happy book birthday!  When I was selected to participate on the street team for Roar, I was so excited and ecstatic!  This book was already one of my most anticipated of the year, but then I had the opportunity to share it in even cooler ways with even more people 🙂  Which is why my social media has been littered with references and reminders lately.
This book was everything I wanted and more ❤  I love weather-related magic, and the storm magic in Roar fulfilled this need perfectly.  Cora beautifully describes a vast variety of storms, how they form, and how they affect the landscape and people living there.  It was amazing how the magic blended with the world and the characters.   I want to tell you all the things, but I'm worried I'll spill all the fun and spread too many spoilers, so I'm going to share a few of my favorite quotes.  (Warning: these come from the arc and may have changed in the final version, but I love them all the same!)
There were a couple of small things that felt off within the narrative.  They aren't terrible in any way, just something I noticed that felt like sharing.  If you are unfamiliar with Cora Carmack, you should know that she has written mostly romance stories until Roar.  You can definitely tell that she's more adept at romantic writing instead of fantasy by the emphasis of details throughout the book.
There are multiple POV used, and sometimes it was hard to keep track of which characters knew the other characters' motivations and who hadn't put together all the clues yet.  Otherwise, the pacing was pretty good and the characters and magic system were so much fun to read!  I hope you check out all the fun stuff happening on social media this week, and don't forget to enter the giveaways!!
Summary:
In a land ruled and shaped by violent magical storms, power lies with those who control them.
Aurora Pavan comes from one of the oldest Stormling families in existence. Long ago, the ungifted pledged fealty and service to her family in exchange for safe haven, and a kingdom was carved out from the wildlands and sustained by magic capable of repelling the world's deadliest foes. As the sole heir of Pavan, Aurora's been groomed to be the perfect queen. She's intelligent and brave and honorable. But she's yet to show any trace of the magic she'll need to protect her people.
To keep her secret and save her crown, Aurora's mother arranges for her to marry a dark and brooding Stormling prince from another kingdom. At first, the prince seems like the perfect solution to all her problems. He'll guarantee her spot as the next queen and be the champion her people need to remain safe. But the more secrets Aurora uncovers about him, the more a future with him frightens her. When she dons a disguise and sneaks out of the palace one night to spy on him, she stumbles upon a black market dealing in the very thing she lacks—storm magic. And the people selling it? They're not Stormlings. They're storm hunters.
Legend says that her ancestors first gained their magic by facing a storm and stealing part of its essence. And when a handsome young storm hunter reveals he was born without magic, but possesses it now, Aurora realizes there's a third option for her future besides ruin or marriage.
She might not have magic now, but she can steal it if she's brave enough.
Challenge a tempest. Survive it. And you become its master.