Welcome to Urban Fantasy week! One of my absolute favorite sub-genres of fantasy. Last week I was feeling off and didn't make as many posts, but this week will likely be jam packed with content as I have a lot to shout about!
I started reading this series back in 2017 in anticipation of the author, Seanan McGuire, visiting ARCHON. Admittedly, I had not made it very far into the first book by the time the convention rolled around, so I had very little context for all the questions Seanan was answering about Toby. And I wish I could go back now with all my newfound knowledge of the series in order to better understand!
This is one of those series that just gets better as the series progresses due to the author's writing evolving and growing over time. Seanan is also ridiculously good at telling a story over a series. All the plot threads that have been introduced and criss-crossed and followed through on. I am in awe of her skill and hope that someday I can tell a story half as good.
So this series follow October "Toby" Daye, a changeling on the outskirts of the fae community living under the radar in the San Francisco area, as she tries not to die while following the directives given to her by pureblooded monarchy and "betters." Each book is a fully contained story while adding to the over-arcing narrative. That being said, definitely read this series in order! The way the characters change, grow, and interact is very realistic, and the author knows how to write authentic emotions.
I have been slowly savoring the series ever since starting it and loving it; however, the author announced that she plans on providing a preorder enamel pin to readers who have ordered the newest Toby Daye book through specific independent bookstores that have signed up for the promotion. I have put in my order through Borderlands Books, the author's local favorite, and now I must finish reading the other books to be up-to-date by September.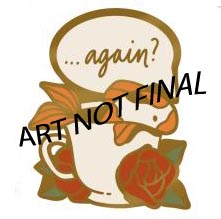 I have finished the first eleven books and will be starting the twelfth very soon. Then, I either have to wait until September to receive my copy of the mass market of book thirteen or hope that I can get it through the library interlibrary loan program. We'll see if that possibility pans out. I'm both excited and sad to be caught up since this series has become a favorite, and once I get caught up, I'm back to waiting for the next book to release!