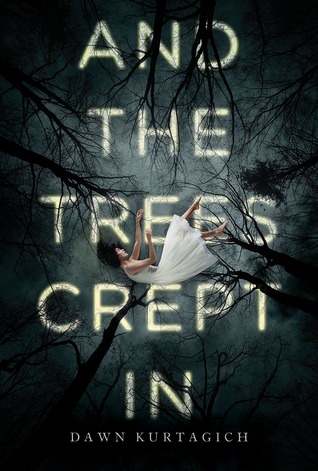 Hardcover, 352 pages
Expected publication: September 6th 2016 by Little, Brown Books for Young Readers
OK. First off, this was one of the books I chose for the
#ReadThemAllThon
featured by
Read at Midnight
.  If you remember, I picked it for the Cascade Badge as a book that might make me cry at instead of crying tears.  Well, it did both.
The story was intriguing, and the writing was well done.  However, I really struggled to finish this book.  I had picked it up because I loved Dawn Kurtagich's debut book, 
The Dead House
, from last year.  That book was borderline horror/thriller and was created using various media entries to draw a picture.  This book took a similar approach by utilizing poems, flashbacks, journal entries, and an unreliable/crazy narrator.
Unfortunately, And the Trees Crept In went too far down the horror path for my liking.  It made my stomach churn (physically not just mentally).  The story was enough to keep me going to the end (as well as the reading challenge), but this is not something that I will ever want to reread in the future.  It just… I don't know, really upset my mental state, which is the exact opposite from the whole point of reading, for me anyway.
The ending was an interesting twist that, on one hand, I liked and it helped my mental disassociation for finishing.  On the other hand, it felt a little too much like a dream sequence.  (It wasn't, in case you're worried.)  But it did make it feel like I had wasn't energy on the negative feelings for not a good reason.
I completely understand that these are my own feelings, and I know there are plenty of readers who will greatly enjoy and appreciate all the points I just listed as assets to the story.  Which is why I'm hosting a giveaway for an advanced uncorrected proof to one lucky reader!!!!
Summary:
A stunning, terrifying novel about a house the color of blood and the two sisters who are trapped there, by The Dead Houseauthor Dawn Kurtagich

When Silla and Nori arrive at their aunt's home, it's immediately clear that the "blood manor" is cursed. The creaking of the house and the stillness of the woods surrounding them would be enough of a sign, but there are secrets too–the questions that Silla can't ignore: Who is the beautiful boy that's appeared from the woods? Who is the man that her little sister sees, but no one else? And why does it seem that, ever since they arrived, the trees have been creeping closer?
Filled with just as many twists and turns as The Dead House, and with achingly beautiful, chilling language that delivers haunting scenes, AND THE TREES CREPT IN is the perfect follow-up novel for master horror writer Dawn Kurtagich.
And now for the Pokemon math!  I finished reading this book, which totals 35 CP for 352 pages + 20 CP for finishing + 20 CP for posting a review.  Add in the three Twitter posts, and I get another 6 CP.  For a final total of 81 CP, which brings my Dratini to 91 CP and on its way to evolving into a beautiful dragonair.
Next on my reading list is Sign of the Crescent by Debbie Federici and The Aeronaut's Windlass by Jim Butcher.  I hope these go more quickly, or I definitely won't finish the challenge on time!